Kids Scooters
Jedem Micro Adventurer sein Scooter!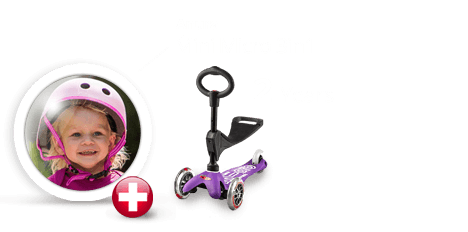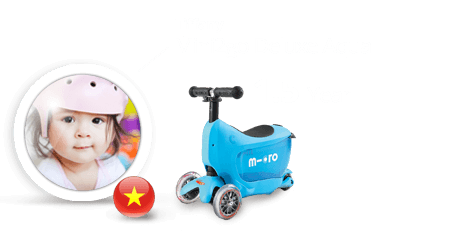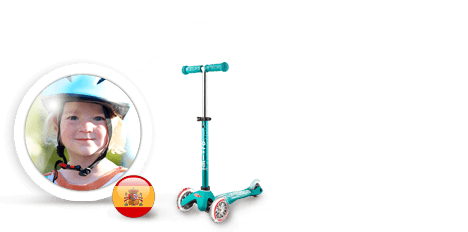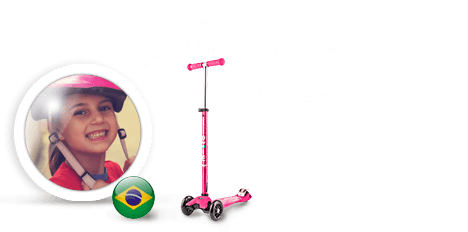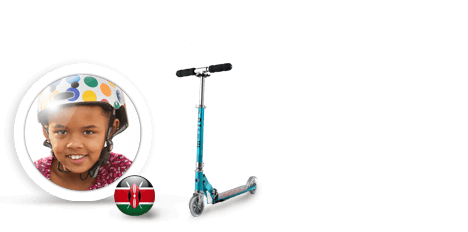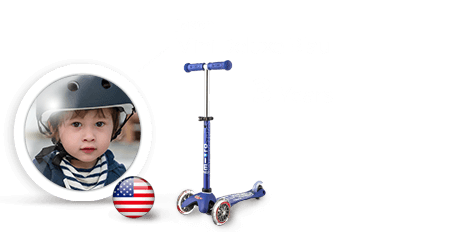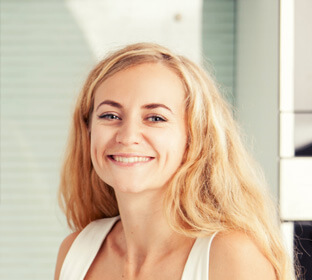 Nicole
"My daughter Anura got 2 years old in September. Since then, she has been riding the Mini Micro. I now get around much faster with my daughter and she really enjoys it when we go shopping!"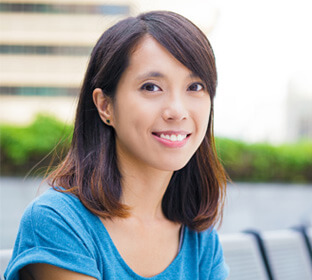 Binh
"Tiffany was a little reluctant at first, but then she sat on it again and again and played with it. She quickly got the hang of how to push off and she could soon do it perfectly. After her second birthday we will convert the Mini2Go, meaning that we plan to remove the seat and the drawer."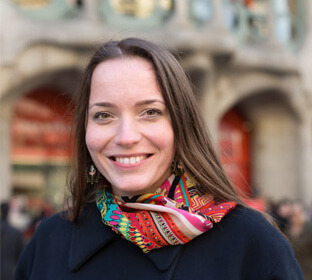 Cecilia
"My daughter Clara is 6 years old and rides the Maxi Micro with the T-bar. It's a very smooth ride and it's stable, which as a mother also gives me a feeling of safety. I myself ride the Micro Scooter Black!"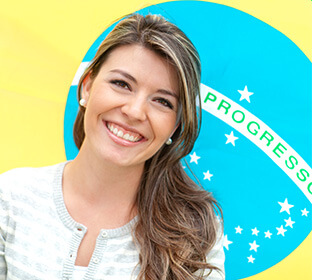 Rosa
"My daughters Sophia (6 years) and Anna (4 years) both ride Micro. The Micro Rocket and the Maxi Micro. We always have the scooters with us on longer city trips – so the girls can have fun and keep up with us all day without any problems!"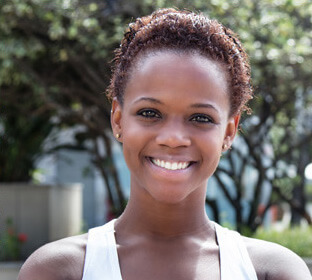 Ayah
"Emma is 9 years old and rides her scooter to school for 20 minutes every morning. Nowadays she goes on her own, in the beginning I accompanied her. Of course also with a Micro Scooter..."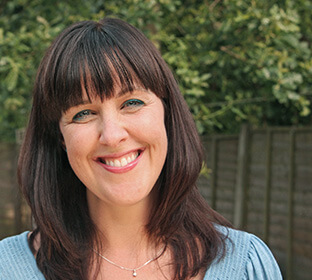 Sarah
"Jason is 3 years old and rides the Mini Deluxe in his favourite colour blue. With his scooter, Jason scoots down the road behind his big brother, goes shopping with his Mum and endlessly darts around the campsite during the holidays!"
Boost your motor skills and balance
Healthy and strong thanks to Micro training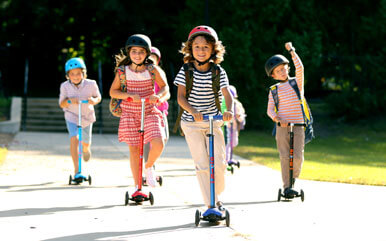 Healthy
Exercise
Sufficient exercise is crucial to the development of every child. With our Mini and Maxi Micro range we combine fun with mobility and sport and thus promote your child's physical activity.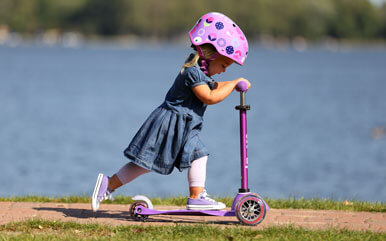 Strengthened
Leg muscles
The kicking action of a leg to generate movement improves the musculature of both legs. On the one hand, through the movement of the kicking leg, and on the other, through the bending of the leg on the footboard.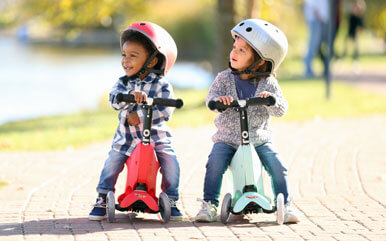 Improved
Motor skills & balance
Since the Mini and Maxi Micro scooters are controlled by means of weight transfer, they are perfect for developing the motor skills and balance of your child.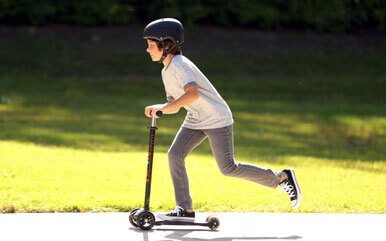 Greater
Stability
The trunk and back muscles are strengthened through riding and this leads to more stability and safety on the Micro scooter.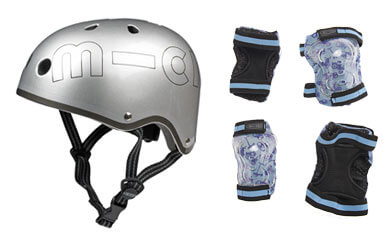 Recommended
Safety equipment
Make sure that your child always uses the safety equipment recommended by us when on the move. Further information on the use of Micro scooters can be found under "Safety tips".
Safety first!
The golden rule of safety on the streets
Place your foot at the front of the board
This way you have more weight on the front wheel a more stable grip on the floor.
You have more space on the deck for your second foot.
This way you can better activate the footbrake.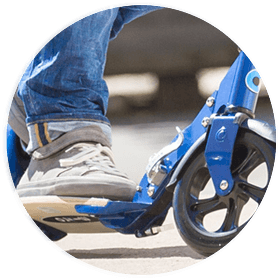 Always ensure you wear a helmet when scooterin
The protective equipment must fit well and be comfortable.
The helmet prevents head injuries in case of a fall.
Tighten chin strap of the helmet well, it must be firmly secured.
During a fall forces are up to four times the body weight. Kneepads can absorb 70 % and elbow pads 20 % of these forces.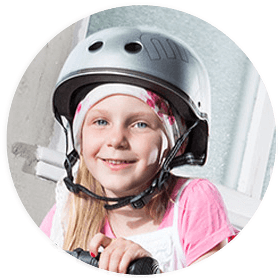 Make sure your front wheel is heading forward
The logo on the bar must point forward
If your turn the handlebar you can see the difference.
This way you prevent a rollover at higher speeds.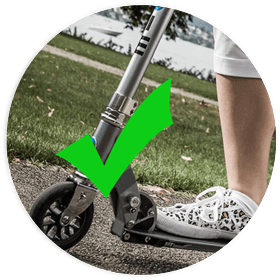 Always look around before you ride away
This way you can check whether vehicles or pedestrians are approaching.
Being aware helps prevent accidents.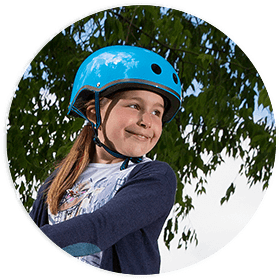 Change your pushing foot from time to time
You preserve your joints and you strenghten both sides equal.
Your technique of the curves and your coordination capacity will improve.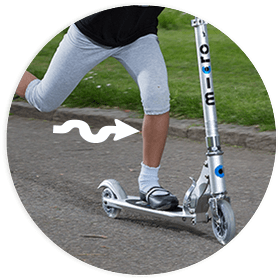 Make sure your pushing foot is always inside the turns
Your left foot should be unused on a left turn and your right foot should be unused on a right turn.
Like that you can hold up on the ground the free foot and scooting the curves more controlled.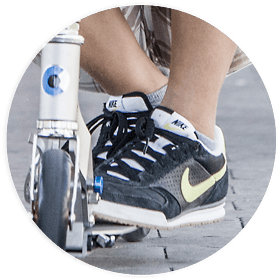 When braking with the footbrake, shift your weight backwards
This way the braking power is at its best
This way you can reduce the abrasion of the back wheel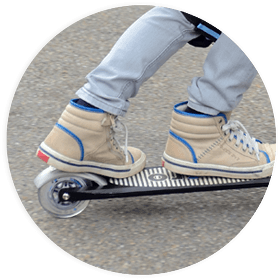 When stopping with your feet, put the free foot on the floor first
Dismount your scooter and run alongside until you coma to a halt.
Do not grind on the ground, instead make real steps.
The faster you scoot the more steps are needed to a halt.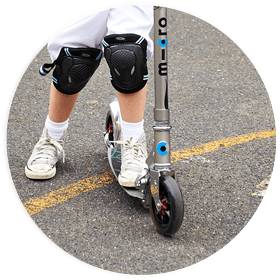 Avoid riding in wet conditions
If the road is wet there is a risk of slipping. Therefore we recommend not to scoot by rain.
Due to wetness the braking distance is at least twice as long. Brake carefully and early.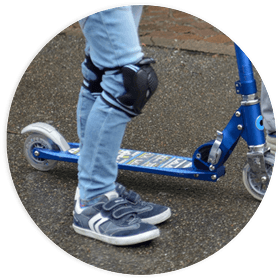 Always come to a complete stop before crossing the road
Wherever possible use the pedestrian crossing.
Scoot always at walking speed or push your micro scooter.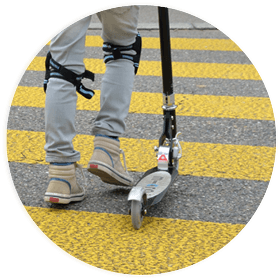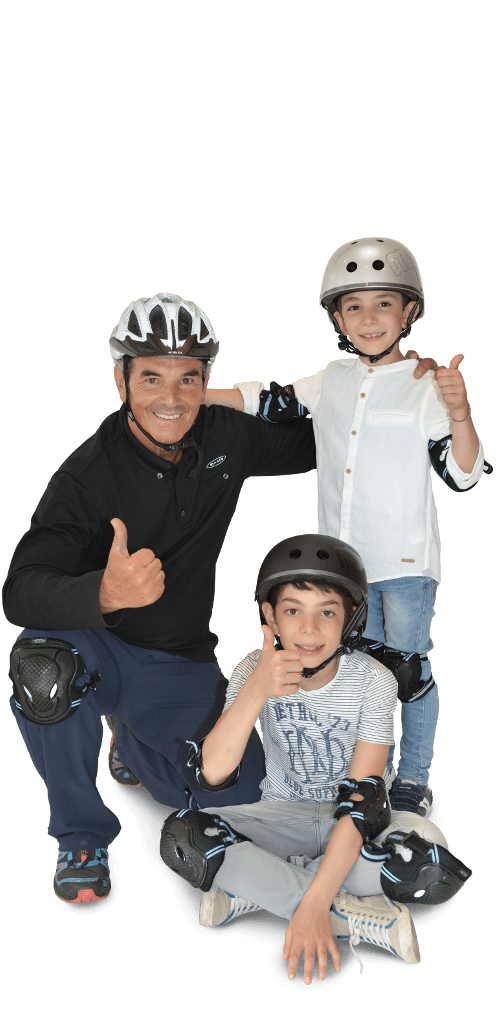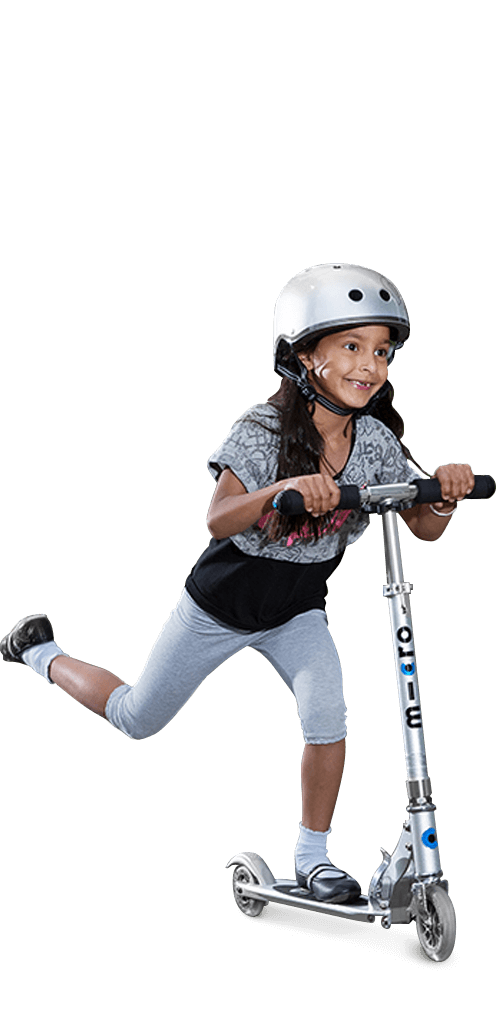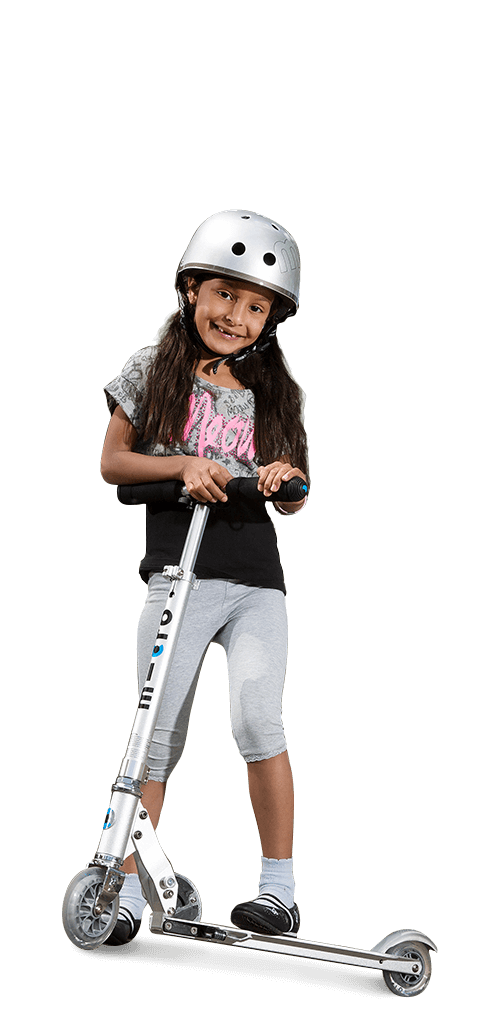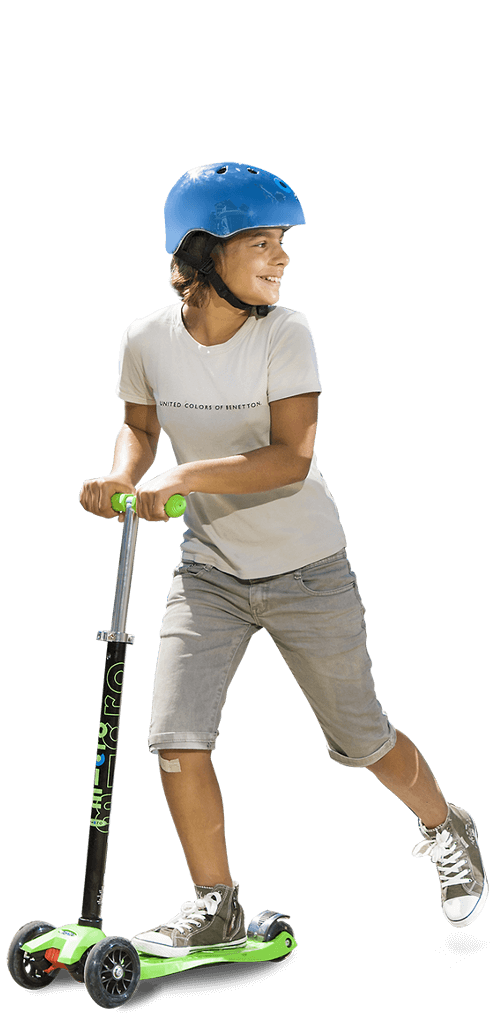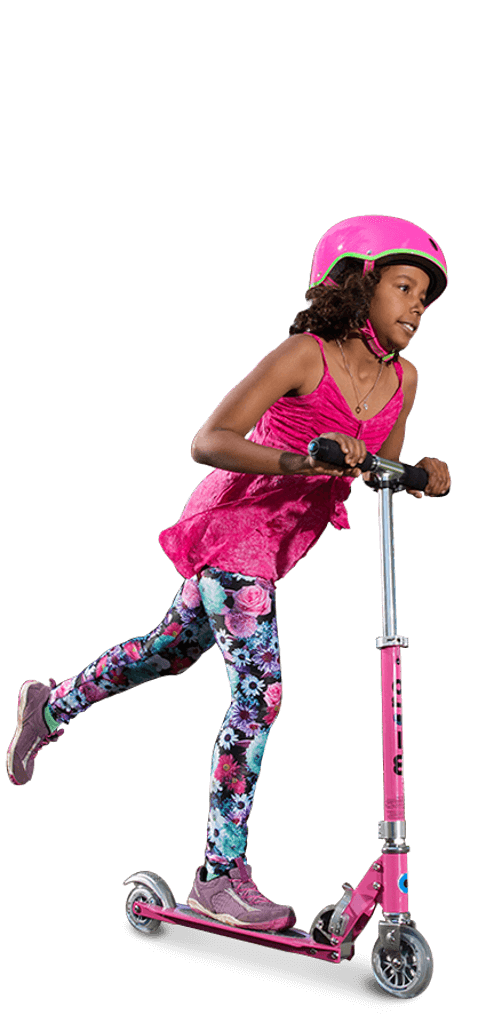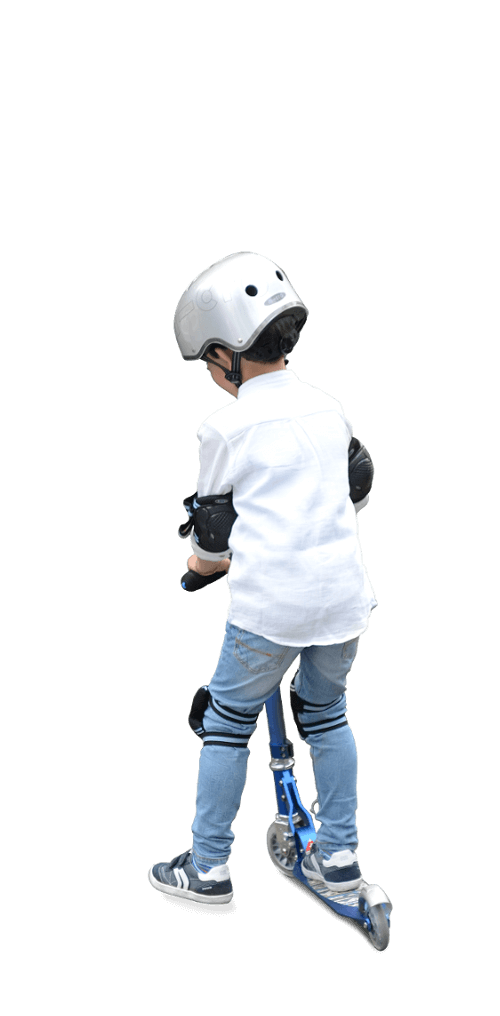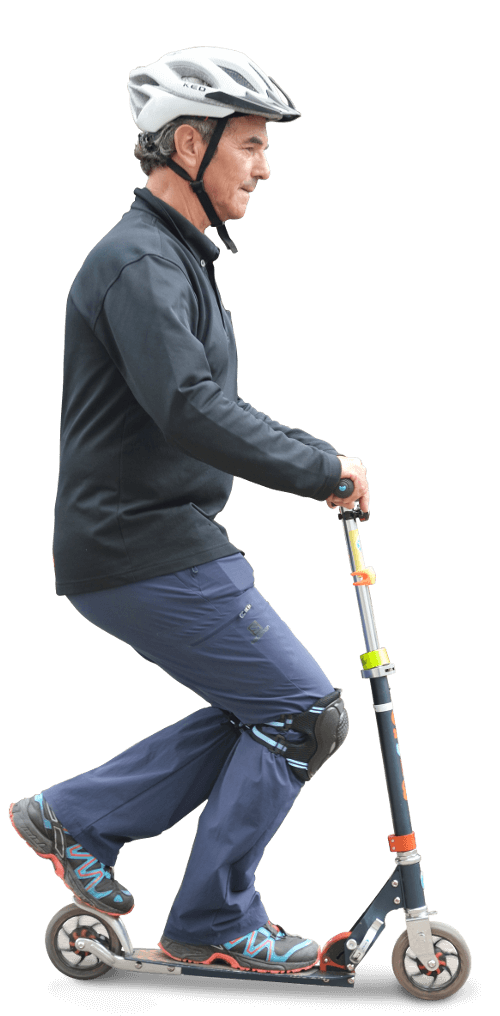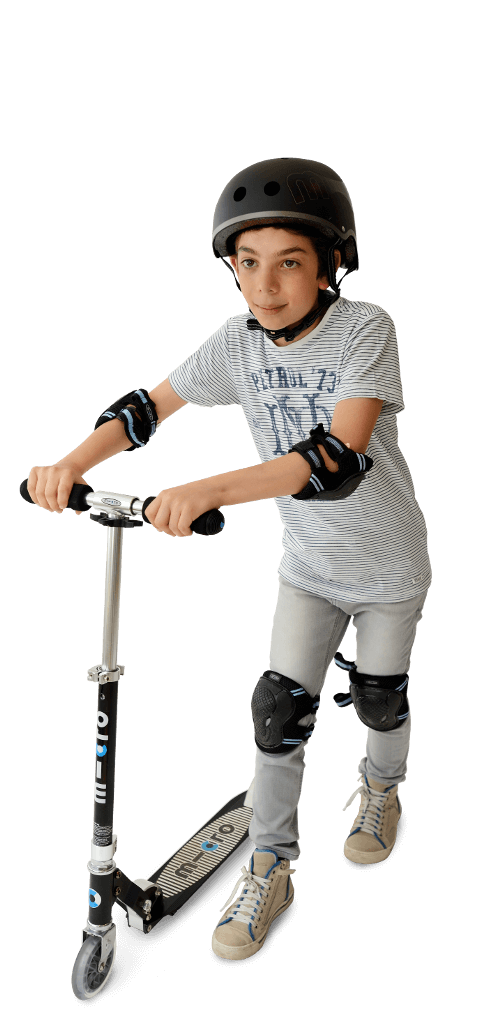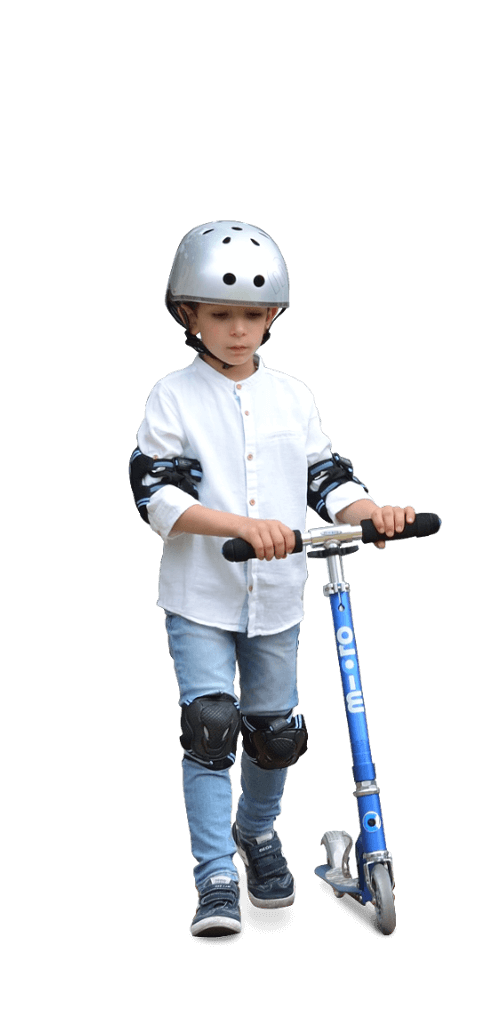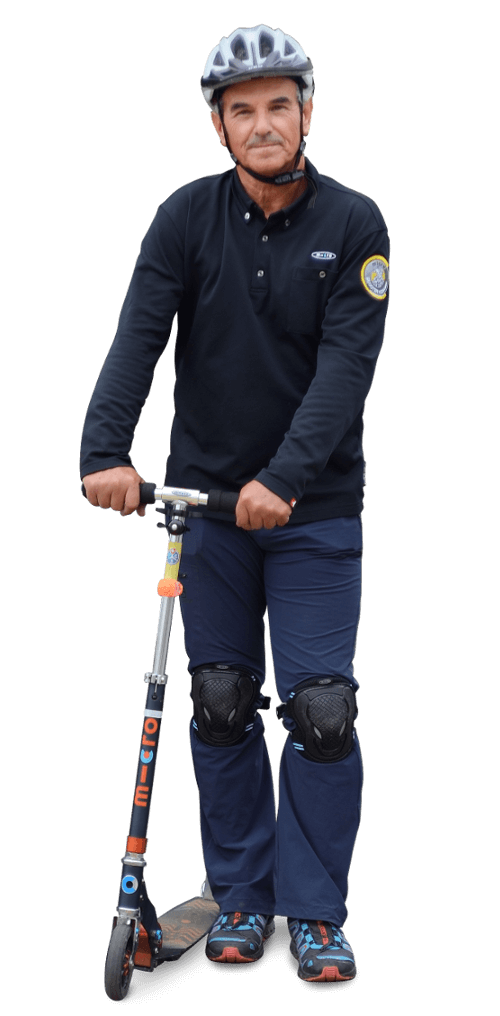 Kids Scooters
Awards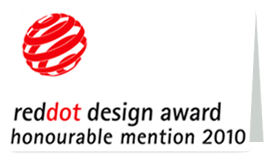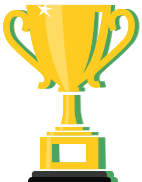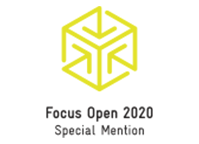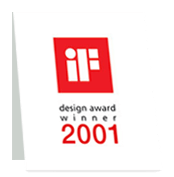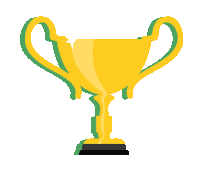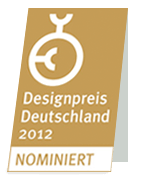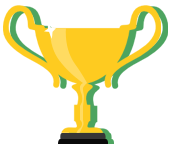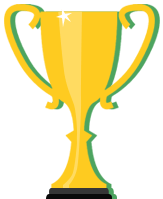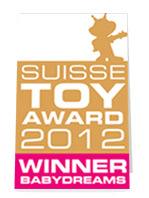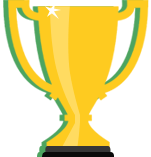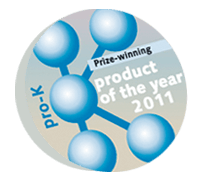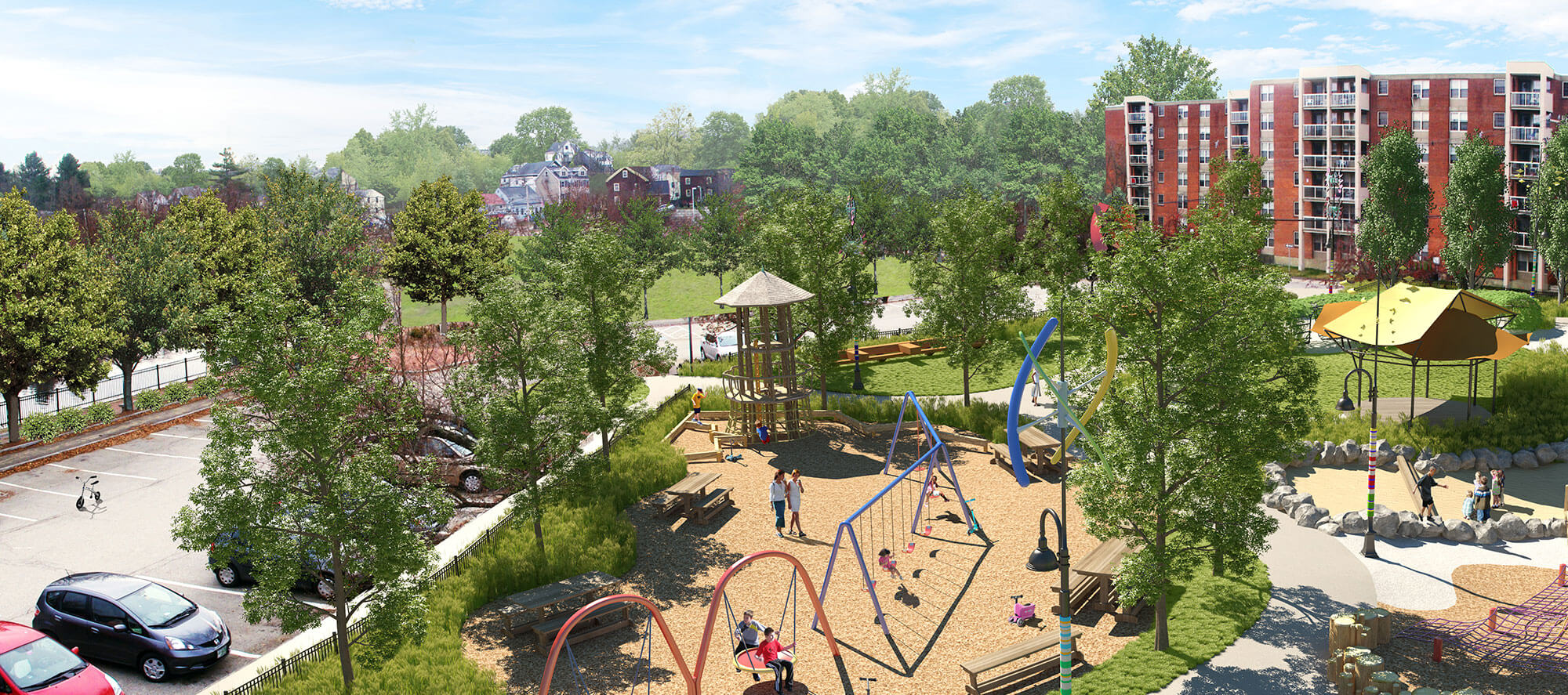 1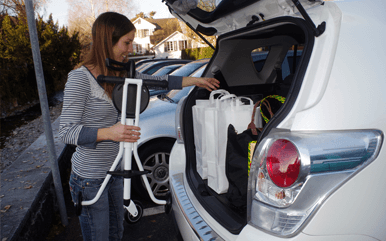 Well stored
All the handle bars are either removable or foldable. That way our products fit in every stroller and can be stowed away easily.
2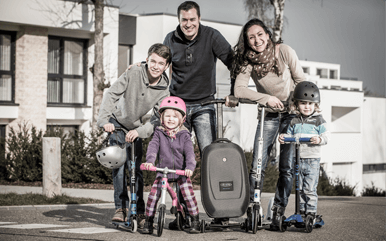 Family outing with kids
Your child is mobile and that makes the trip much more enjoyable.
3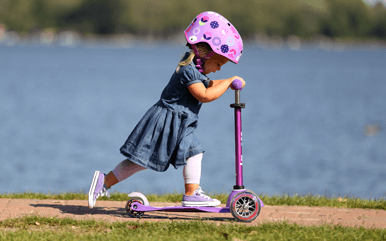 Stroller hauling is unnecessary
With the Mini Micro your child is independent and fatigued less quickly than if it has to walk.
4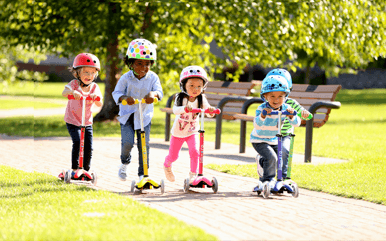 Micro moves
Micro products makes movement more fun. It is entertainment at its highest level furthermore it encourages motor skills and balance!
5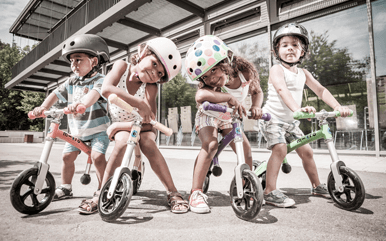 The lightest wheel in the world
If the Child is no longer willing to drive, then Dad has to drag... with our G - bike it is no longer a problem because with only 2.4 kg weight it is like wearing a breeze!
Nadine with son Renato

"Renato (9) wanted a freestyle scooter after receiving great notes in school"

Martina with son Kevin

"I now get around much faster with my son and he really enjoys it."